Between May 21 and 24, 2019, there was a head-quarter exercise held according to the IAEA scenario on the premises of Ulba ironworks with support of URS/ DTRA US DoD. This event of attended by specialists from USA, Russia and Kazakhstan. A technician Zakharov Vadim  Sergeyevich of the Radiation Research and Ecosystem Restoration Department on behalf of the branch 'Institute of Radiation Safety and Ecology' RSE NNC RK also took part in it.
The exercise was held among specialists of d departmental subdivisions (National Guard, National Security Committee, Ministry of Healthcare, Customs Service, Border Service etc.). During the discussion, according to the scenario developed, key guideline issues were defined for Kazakhstan to self-appraise in case of an incident. Interaction procedures were developed with all of the institutions involved to check the efficiency of decision-making procedures and communication channels in a certain situation.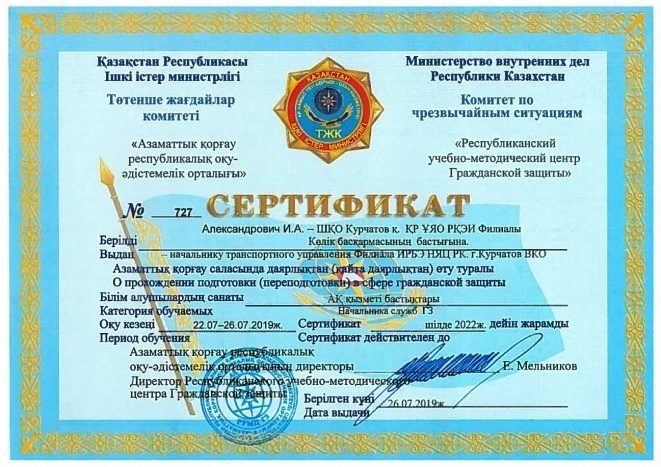 The training in the field of civilian protection was also held in the 'Republican Training Resource Center for Civil Protection' under the Emergency Committee MIA RK July 22 through 26, 2019. The training involved representatives of different offices from all over Kazakhstan. Branch 'IRSE' RSE 'NNC RK' was represented by a technician from the Radiation Research and Ecosystem Restoration Department Aleksandrovich Ivan Analolyevich.
The training program included lectures and practical studies on civil defense management, evacuation events at a time of peace and war, protection of the population if any threats occur as well as the head-quarter exercise on a set of measures for an emergency response. Upon completion of the training, an examination was held following which participants were issued certificates.